Turning 90 is a great milestone to celebrate and should be done so surrounded by great friends and family. With menus ranging from buffets to formal dining packages, Hog Roast Colne have something that is ideal for any occasion. One of our most popular menus is our Alfresco catering package, and this is what you can expect when you get booked in!
Towards the end of May, Hog Roast Colne was hired to provide catering for Mike's 90th birthday. Mike is a keen golfer, even in his 90s, and wanted to enjoy a great birthday celebration with 90 of his friends and family. For the catering, our manager Sophie was hired to provide an alfresco menu for the occasion, with three delicious courses of delicious Hog Roast Colne catering!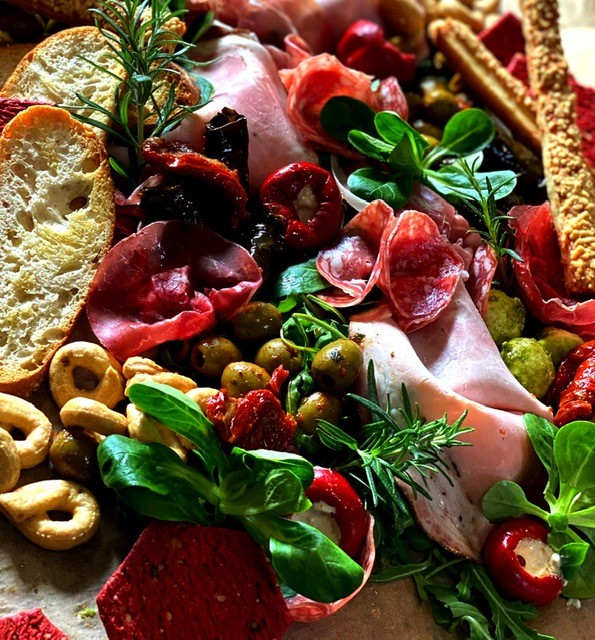 On the day of the event, Hog Roast Colne arrived at Worsall Village Hall with plenty of time to prepare for the 12:30 mealtime. We began by preparing the starters, which consisted of a variety of dishes served on a grazing table for the guests to enjoy. The starter included a selection of gourmet meats and cheeses, as well as fresh bread and salad dishes.
Once the starter had been enjoyed, the guests enjoyed a classic hog roast served with all of the trimmings. This included homemade chips, sage and onion stuffing, applesauce, seasonal vegetables, and fresh gravy. This main course was a delicious option and there was plenty for every guest to enjoy. We served this course on wooden crockery and cutlery, as this was the ideal level of formality for the occasion.
To finish the menu, the guests enjoyed a dessert provided by Hog Roast Colne. The options included profiteroles and vacherins, and each dish was served beautifully with fresh berries and English cream.
Whatever style of catering you require, Hog Roast Colne has a menu that is perfect for you! Private events come in many different forms and our team is always on hand to help you out. To book in, simply let us know your party size, date, and location and we can do the rest.