The Spitting Pig North West team are the number one hog roast caterers in the area. Covering Lancashire and Greater Manchester, we offer a winning combination of perfectly cooked hog roasts, with vibrant freshly made menus that can be tailored to suit any occasion.
Who are we?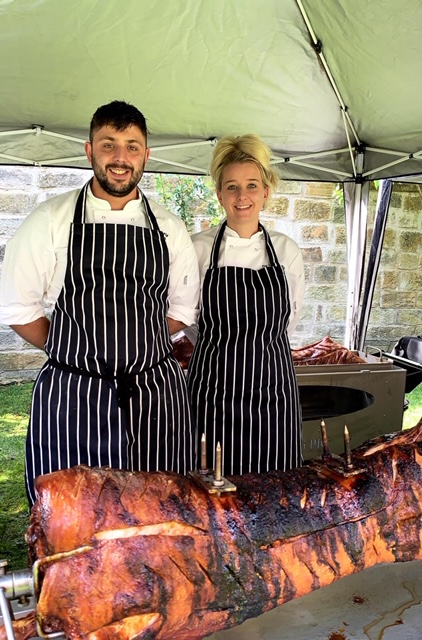 Hello and welcome to Spitting Pig North West. My name is Sophie and I am the proud co-owner of Spitting Pig North West along with my partner Jordan. We are both passionate about fantastic food and great customer service, and between us we have worked across many catering and hospitality settings. I started out as a manager for a well-known sandwich franchise before going on to work as a member of cabin crew, and this experience has played a key role in maintaining an excellent standard of customer service for all of our Spitting Pig North West clients.
When we started Spitting Pig North West, I was mainly managing the business side of things, but before too long I became more involved with the food and for the past five years I have worked alongside Jordan at events and I am enjoying the buzz of having a more hands-on role. Jordan has always had a flair for food and a love of catering, which led him to win the 'Young Uns' award for hospitality and catering in Lancashire. Having started out as a pot washer, he then went on to have a 15-year career as a chef in bistros, wedding catering and fine dining restaurants, and his wealth of knowledge has been instrumental in running our own hog roast business.
What can you expect from our catering services?
We love providing memorable dining experiences and the highest standard of food and service. We offer catering packages that are perfect for any type of event taking place across the North West, and we have specialist menus for weddings, private parties and corporate entertaining. Our hog roasts and our varied menus make us an appealing catering choice for any size or style of event, and we are equally comfortable providing large-scale catering services for several hundred people as we are creating refined menus for more intimate parties and special occasions.
Whatever event you have planned, you can expect complete catering solutions and a personalised service if you hire Spitting Pig North West to cater for your event. We understand how the quality of the food and service can make the difference between an average event and a great one, and we will pull out all of the stops to make sure yours is an occasion to remember!
What makes our hog roasts so good?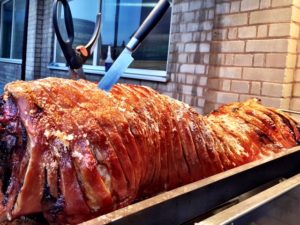 We always begin by sourcing the finest quality free range pork from ethical UK producers and spend several hours delicately cooking it until it is falling off the bone. We utilise the most advanced hog roast catering technology combined with our expertise in cooking meat to produce the most tender and tasty pork imaginable. Our hog roasts always make a brilliant centrepiece for any party in the North West and our diners love watching us prepare and carve the meat right there in front of them.
How varied are our menus?
We may have made a name for ourselves with our unbeatable hog roasts, but we also offer a whole host of diverse menus that are suitable for all tastes and different dietary needs. We have catering packages that accommodate all budgets and events in the North West, with a range of enticing buffets and 3-course meals on offer. All of our menus give you the choice of an alternative meat if you would prefer, a wide assortment of side dishes, and creative vegetarian and vegan options.
If there is something in particular you would like on your menu, all you have to do is let us know and we will take care of it for you. Whether you are happy with one of our set menus or you would like a bespoke package, we will make all of your food from scratch using the best locally sourced ingredients.
Get a free quote for your event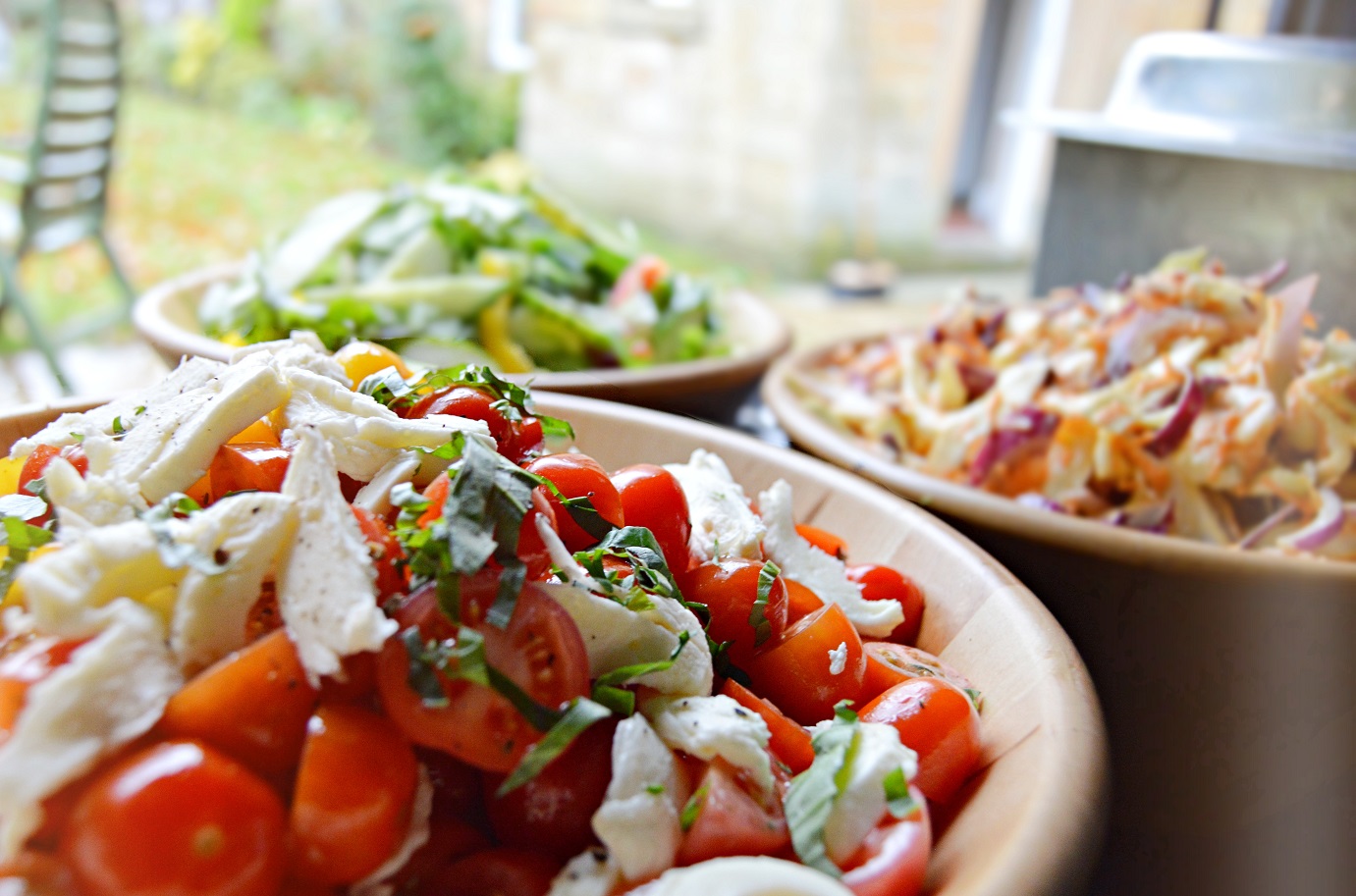 If you already have a firm idea about your menu choices, we are happy to give you a free quote for our catering services. If you need some advice, we will gladly talk you through the best options for the size of your event, the occasion and your budget.
It's really easy to get in touch with us here at Spitting North West, you can just give us a call, send us an email or complete our online query form – Jordan and I are looking forward to hearing from you soon!