We were very excited to be able to help Emily and Steffan out with their daughter, Lana's Christening last weekend! The celebration the couple had organised was attended by their friends and family from near and far, which took the total number of guests up to 80 people on the day. So it was a good thing they had called in Hog Roast Rufford to answer the call of all those rumbling tums with one of our sensational slow roast menus!
As new parents, Emily and Steffan already had enough on their plates, such as navigating the early stages of parenthood, without having to worry about keeping their guests fed on top of everything else, so having our catering managers, Sophie and Jordan, on hand to deal with everything for them was a huge relief.
Sophie and Jordan made the couple feel completely at ease, and after asking the clients lots of questions about their goals for the event and their guests' dietary requirements, they were able to come up with the perfect menu for the occasion. The couple agreed with Sophie and Jordan that our Alfresco Menu would be the ideal choice for the event, and so, on the day of little Lana's Christening, Hog Roast Rufford worked tirelessly to bring the mouth-watering menu to life, whilst the ceremony went ahead at a nearby church.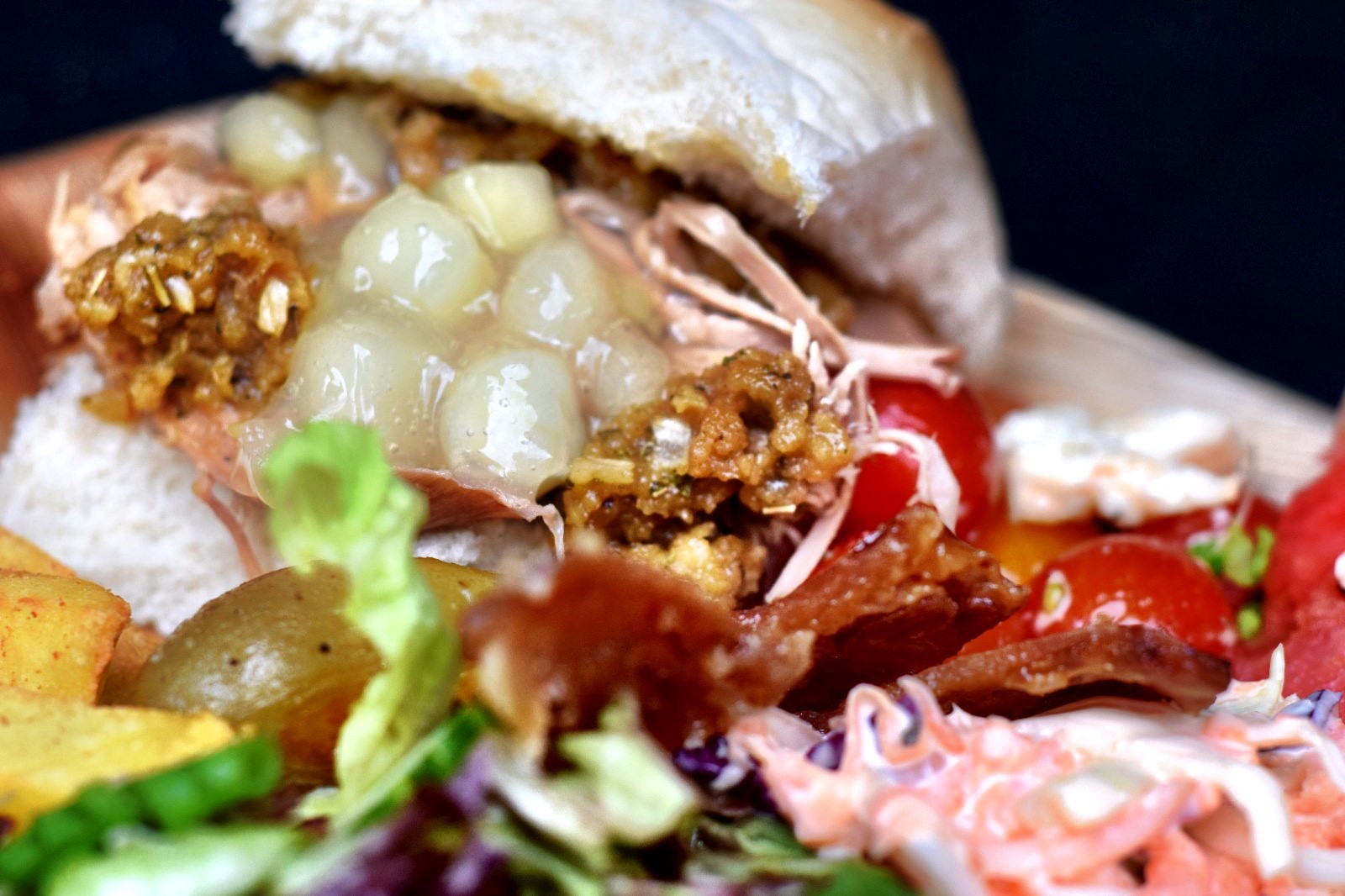 By the time the Christening was finished and the group had made their way back to Emily and Steffan's home to kickstart the after-party, Hog Roast Rufford was ready to serve up the beautifully cooked shredded pork on gluten-free rolls with homemade savoury stuffing, crispy and bubbled crackling and a dollop of applesauce to finish. To accompany the generously stuffed rolls, the team had also prepared some vibrant side salad options, creamy coleslaw and mixed fries, which were presented as a buffet alongside Italian antipasti platters and refreshments for the guests to help themselves. For the non-meat-eating guests, our tasty grilled vegetable skewers with tzatziki dip and flatbreads were also available.
Emily and Steffan couldn't have been happier with the service that Hog Roast Rufford provided on the day, and they were grateful that before heading home, our team cleared away any mess left behind from the event and disposed of any rubbish off-site.