Turning 40 is a pretty big deal, and wanting to make sure that his wife, Sarah, had the best birthday ever, Jonathan had gone to great lengths to plan and organise an unforgettable party for the milestone occasion. And unforgettable it definitely was – and not just because our Hog Roast Freckleton team was in charge of laying on a delicious spit roast for everybody!
Sarah's 40th turned out to be unlike any other birthday party we've ever had the pleasure of attending. This is because, unbeknownst to us and any of the guests, she and her (now) husband, Jonathan, had snuck away to Scotland earlier in the month for a secret wedding at the world-renowned Famous Blacksmiths Shop, which lies in the heart of Gretna Green village. So, in an unexpected turn of events, the 70 guests arrived at Sarah and Jonathan's home to discover that they weren't just celebrating Sarah's b-day, after all, but the couple's marriage, as well!
As you can probably imagine, everyone was rendered speechless when the news was revealed! But they were thrilled for the happy couple and so excited by the revelation, which only made the day even more enjoyable and memorable for all those who attended.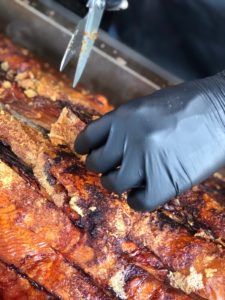 Making the most of the gorgeous weather and their massive back garden, which had been decorated with a gigantic 'Love' sign and lots of balloons, the couple had opted to host their joint party outdoors, where Hog Roast Freckleton worked their magic by cooking up a traditional hog roast with extra crispy crackling, sage and onion stuffing, homemade applesauce and gluten-free rolls and wraps. For the non-meat-eaters, we also made sure to include grilled vegetable skewers with optional halloumi cheese chunks on the menu, which ensured that everyone's dietary needs were properly taken care of.
The party carried on into the late evening, and the guests had an absolute whale of a time! Sarah and Jonathan, too, were super pleased with Hog Roast Freckleton's excellent service, which meant they could enjoy the celebrations to the fullest without having to worry about a single thing.
Hog Roast Freckleton wishes the pair a long and happy marriage!