Christmas, as we all know, is a time for giving. And in the true spirit of the holiday season, Aimee had decided that at this year's office Xmas party, she would encourage her staff to give something back. The plan was that instead of exchanging gifts in the traditional Secret Santa format with the other workers, guests would put together shoebox presents filled with a mixture of essentials, goodies and unwanted items, which were to then be given out at a local homeless shelter.
Everyone was on board with the idea, and the thought of helping those most in need motivated each of the guests to put together a few boxes for the cause. Aimee was ecstatic with how well her workers took to the idea, and as a treat, she reached out to Hog Roast Wigan to organise a festive lunch for all 100 members of the team to indulge in before the Christmas break.
The client was amazed by our reasonable price points and found our catering managers, Sophie and Jordan, to be a massive help throughout the booking process, which made hosting the large-scale event feel like a complete breeze. Within minutes, she was able to find the perfect menu for her needs; and tweaking it to suit the veggie, vegan and guests with allergies proved just as easy!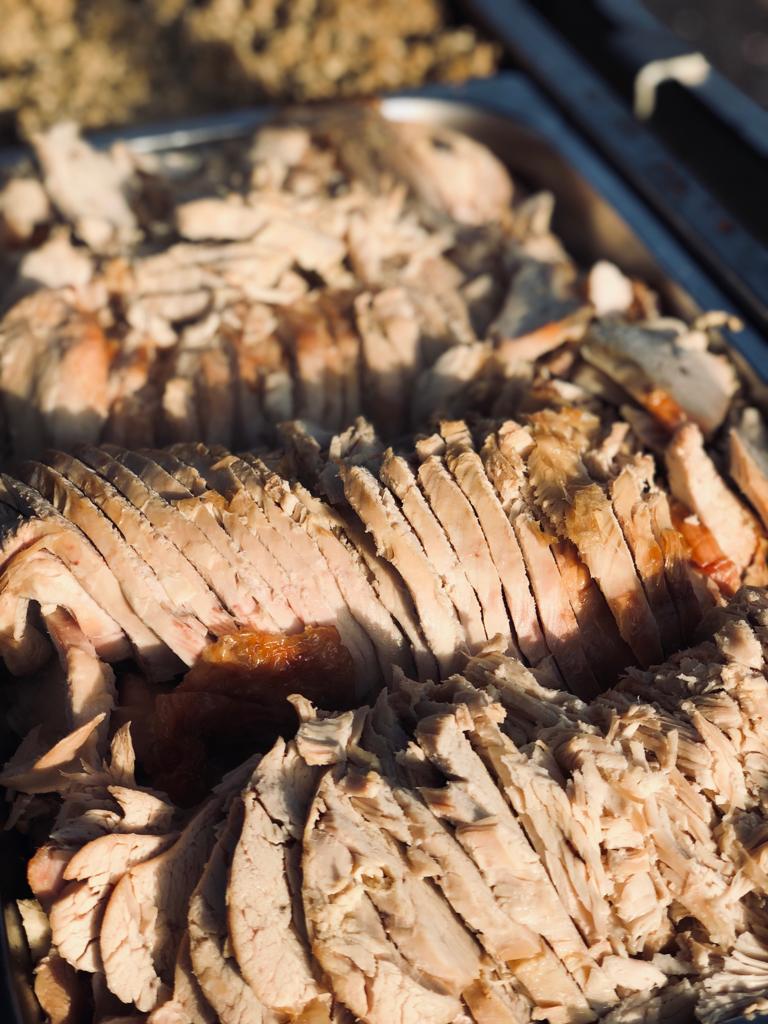 Hog Roast Wigan was just glad to be of service, and when the day of the party rolled around last week, Sophie and Jordan made sure to arrive at Aimee's office well in advance of the serving time. This gave them loads of freedom to work on the Full Festive Menu, which was composed of a large, juicy turkey with cranberry sauce and sage and onion stuffing, as well as side options of creamy cauliflower cheese, pigs in blankets, roasties, seasonal veg and, for dessert, traditional mince pies with brandy cream and a glass of mulled wine (minus the alcohol!). Also on the menu was our flavour-bursting BBQ pulled jackfruit rolls, which provided the perfect meat-free alternative for those guests following plant-based diets.
Aimee and her team adored the spread prepared by our Hog Roast Wigan team, and after finishing the meal, they requested that the leftovers be parcelled up for them to drop off at the homeless shelter along with the shoebox presents.