For your next corporate event, why not provide some tasty catering for you and your guests to enjoy? Delicious catering creates a great talking point for any event and is one of the easiest things to bond over, especially when the catering is as good as Hog Roast Burnley's is! Of all of our tasty menus, the Classic Hog Roast is our most popular choice- and here is what you can expect…
RecycleIT is a recycling company that looks to reduce electrical waste across the country. They aim to recycle, reuse, or refurbish as many electronics as possible, to create a greener planet for us all. Earlier this winter, Tony from RecycleIT contacted our catering manager to arrange a corporate event at their office in Burnley. The menu needed to be suitable for 35 guests and include a vegetarian and gluten-free option. After discussing our menus, our catering manager Sophie suggested our slow-roasted hog menu and we got to work preparing for the big day.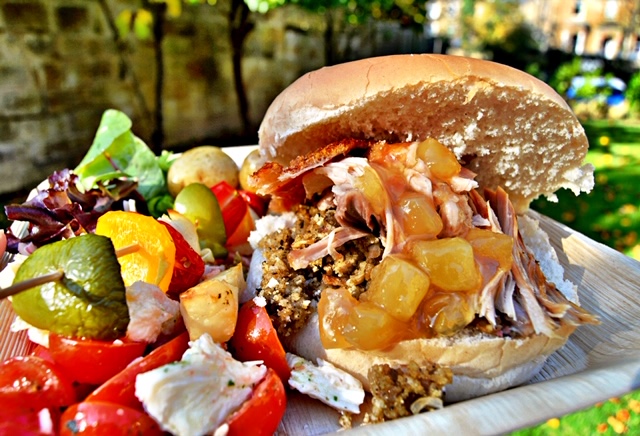 On the day of the event, the Hog Roast Burnley team arrived early to freshly prepare the menu in time for the 18:00 mealtime. We began by roasting the hog, ensuring that it was cooked slowly and packed full of natural juices. Slow-roasted hogs are a Hog Roast Burnley speciality and we make sure that they taste incredibly every time. Once the hog had cooked, it was expertly carved by our chef and served in fresh bread rolls or a gluten-free alternative. For meat-free guests, we prepared grilled vegetables and halloumi skewers. The main dishes were served with a variety of tasty sides, including homemade applesauce, crispy crackling, sage and onion stuffing, and seasonal vegetables. Overall, our menu was a great addition to the corporate event and we had a lot of fun providing catering for such a meaningful business!
Are you in need of catering for an event in 2022? Hog Roast Burnley provide catering for private parties, corporate events, weddings, and more! To book in today, simply let us know your party size, date, and location and we can do the rest.