The goal of every bride and groom out there is to host a spectacular wedding event that puts their love on display and forms a strong starting point for their marriage, which is why it's often cited as being the most important day of one's life. It's also a day for making promises, tying two families together and having a fantastic time with all of the most important people in your life by your side. But while each wedding centres around the same goals, no two events are even remotely similar.
These days especially, couples aren't afraid to push boundaries and explore unique themes and ideas for their big days. This makes Hog Roast Stockport's job extremely interesting, and we are always excited to see what our clients come up with next, and just last weekend, we had the utmost pleasure of assisting Liam and Zara with their special day, which couldn't have been more perfect.
The couple, who met 6 years ago at an outdoor music festival, hit it off and fell in love, were eager to reflect and relive their unique love story on their wedding day. This desire led them to plan a fun festival-themed ceremony and reception, where the guests were encouraged to ditch their formal attire in favour of bohemian ensembles, face gems and glitter – lots of glitter!
The special occasion was held in an open field, which had been set up with colourful festival tents, stalls selling craft beer and baked goods and a stage for the live band to perform on. Hog Roast Stockport was hired to serve our Alfresco Menu after the ceremony, which Liam and Zara had asked us to customise by adding in a drinks service and canapés to ensure the guests had plenty of variety to choose from.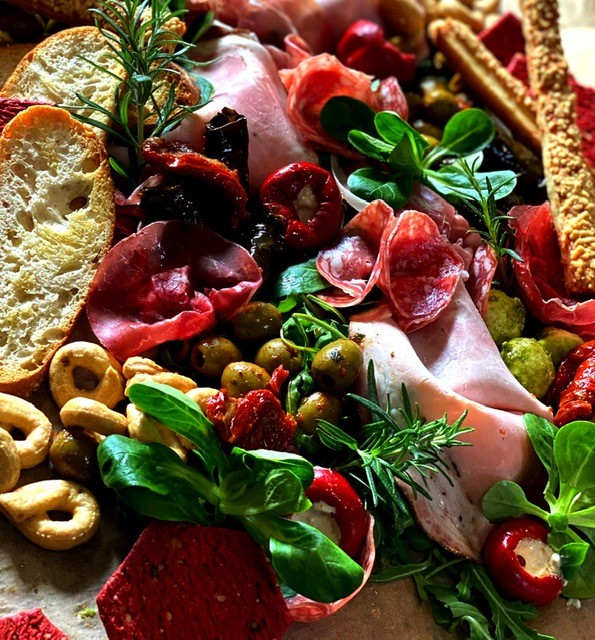 Led by catering manager, Sophie, our team spent all morning preparing a fantastic spread for the couple, which consisted of one of our signature hog roasts, grilled veggie skewers, platters of cold cut meats, cheeses and artisan breads, plus a variety of bite-size savoury treats to dig into. We also prepared summer pudding and cheesecake for dessert, followed by a wedding cake service.
The atmosphere at this lively event is one we won't be forgetting anytime soon! The guests were in their element and very much enjoyed the easy-breezy flow of Liam and Zara's wedding. Hog Roast Stockport's food was a smash hit too, which added to the success of the occasion.