It's been a rough few years, to say the very least. The combination of mounting financial pressure, household responsibilities and work has led to an increase in people experiencing feelings of burnout, which, as we all know, can have a detrimental impact on mental health, happiness levels and overall wellbeing.
On that note, Hog Roast Bamber Bridge had the pleasure of working with a business that has committed itself to a fight against burnout by instead creating a positive, safe and motivational work environment for their staff. And as a company that prides itself on our own workplace conditions, which can be compared to a family dynamic, we were very happy to be involved in this function.
To help their workers become their best selves at work, our clients, Celine and Jerry, had organised for the group of 70 staff members to take part in a 2-day 'Health and Wellbeing at Work Retreat'. This saw the employees make the journey to a serene, lakeside location, where they spent the weekend taking part in team-building exercises, such as rowing, orienteering and a scavenger hunt with great prizes to be won. They were also provided valuable help and advice for personal growth from professional speakers.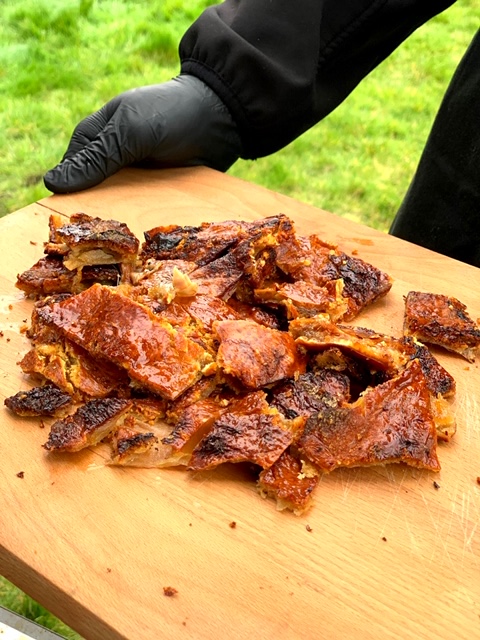 After a full day of activities, each evening ended with a delicious hog roast provided by Hog Roast Bamber Bridge's catering superstars Sophie and Jordan. The pair impressed the ravenous group with our trademark slow roast, which gave them the opportunity to indulge in soft and tender shredded pork with lightly salted crispy crackling and homemade sage and onion stuffing dressed in our sweet and tart applesauce.
They also made sure to serve plenty of side options, which included fresh and colourful salads, creamy and indulgent coleslaw and a huge batch of mixed fries. For the non-meat-eaters, Sophie and Jordan had rustled up grilled vegetable and halloumi kebabs, which were so delicious that even the meat-lovers couldn't resist them!
Hog Roast Bamber Bridge's cooking was a highlight of the weekend, and just as Celine and Jeremy had hoped, the group had an excellent time and each member of staff left the retreat feeling refreshed and ready to take on the world!