We know that starting a business from scratch and getting it off the ground can be a big challenge. But it's also a wonderful adventure that culminates in a huge sense of achievement, and here at Hog Roast Preston, we want to help you succeed in any way we can!
Because great food is such a large part of British culture, many companies find that their traction increases and business booms best when they host open days, corporate meetings, staff training schemes and team building events that include tasty grub. So, like many new business owners, one of our more recent clients, Caroline, decided to host an open day to attract customers to her business.
At first, Caroline had considered handling the catering by herself to keep the costs down, but quickly realising that it would prevent her from mingling with punters, she set out to find the perfect catering service. It wasn't long before she discovered Hog Roast Preston, and right away, she was awestricken by our incredibly detailed and expansive selection of menus. On top of that, she was pleased to discover during her initial enquiry that our prices are fair, and offer fantastic value for money.
With some help from our catering managing duo, Sophie and Jordan, Caroline selected our Classic Hog Roast Menu for her corporate event, which offers a traditional slow roast experience. This option is also incredibly laid back, and with food served in a roll format, guests have the freedom to move around with ease while eating, which was perfect for what Caroline had in mind.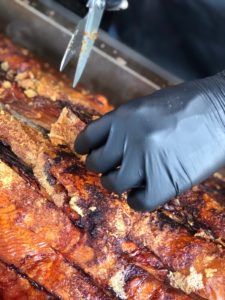 Unsure how many people would be attending Caroline's open day, but expecting a large turnout, Hog Roast Preston arrived bright and early at the client's lot, where they spent the entire morning working tirelessly to prepare a hog roast spread using one of our largest pigs. For veggie and vegan guests, they also made sure to include vegetable skewers on the menu with tzatziki dip and flatbreads.
The gorgeous smells that wafted from Hog Roast Preston's set-up immediately caught the attention of pedestrians and drew them in to see what all the fuss was about. This gave Caroline the chance to introduce herself and her business to lots of people from all walks of life, whilst they happily munched on our signature spit-roast rolls.