Your birthday is the only day of the entire year that revolves completely around you. The one day where anything you say goes, and nothing is out of bounds…within reason, of course. And with that in mind, birthday girl, Charlie, had decided that for her 18th birthday, she wanted to throw a massive party to mark the occasion!
With permission to use the family home and access to the bank of mum and dad, Charlie set out to plan the best party ever, which for her meant a live band, over 150 guests and some great food to keep the invitees from going hungry. To handle the latter, she had, of course, approached Hog Roast Stockport, where our catering managers, Sophie and Jordan, worked hard to recommend menu plans based on the clients' preferences and goals. This eventually led Charlie to pick our Southern Slow Roast Menu, which offers a trio of tasty meat options, a veggie/vegan choice, plus some delicious side dishes, too.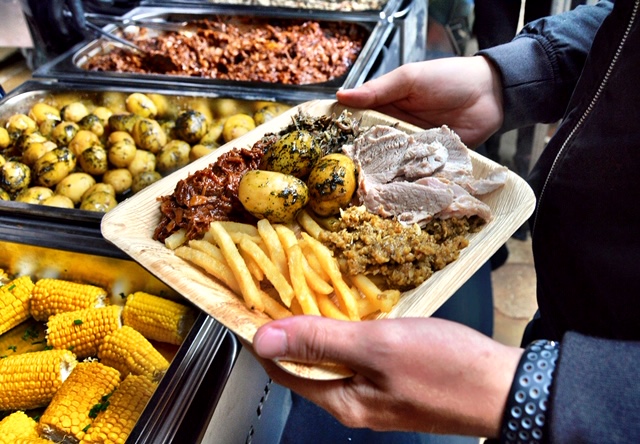 Packed full of smokey and spicy sensations, it's no wonder that this menu is so popular (particularly among our younger clientele who are drawn to more adventurous flavours), and for Charlie, it was perfect! From the options available she had chosen our Cajun spiced whole roast chickens, Texan 24 hour beef brisket and Louisiana sticky pork ribs, as well as BBQ pulled jackfruit rolls as the meat-free option. To accompany the mains, she picked out four yummy sides, which included seasonal green leaf salad, mixed fries, corn cobettes and melt-in-the-mouth mac and cheese.
Charlie's party kicked off later in the evening, which gave the Hog Roast Stockport team all afternoon to work on the meal. The results, as always, were spectacular, and the guests were in total awe of the variety of foods on offer.
The client was so happy with Hog Roast Stockport's efforts, and between dancing the night away to the beat of the live music in the back garden of Charlie's family home, she and the guests picked away at the buffet of Deep South inspired grub, which was fresh, tasty and suitable for an all manner of different diets.