Any wine lovers out there? Yes? Well, then you probably knew all about National Wine Day, which took place on the 18th of February! But, if for some reason you missed the memo, the annual holiday aims to celebrate the ancient (and, by ancient, we're talking 8,000+ years!) boozy beverage and presents the perfect excuse to enjoy a cheeky glass of your favourite vino. And this year, Hog Roast Burscough was invited to spend the day with Liz, who had organised a wine tasting event in honour of the special occasion.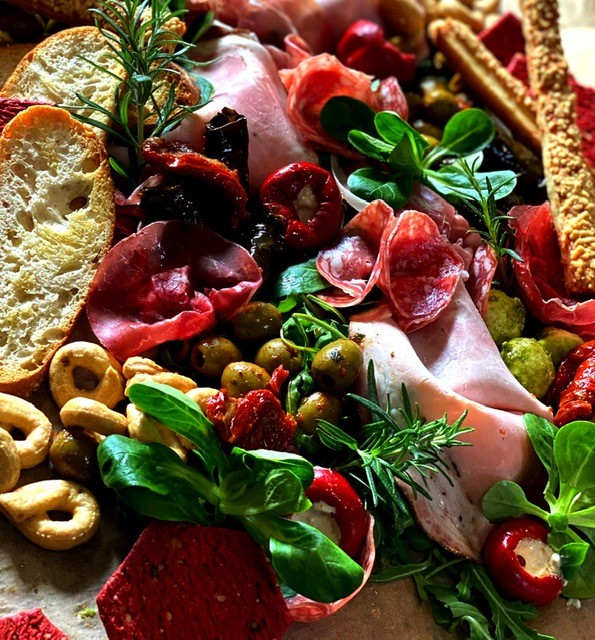 To make the experience even more appealing for the 100 guests who had purchased tickets to her event, Liz had wanted us to serve our Alfresco Menu, which immediately caught her eye due to the inclusion of antipasti platters. Featuring a beautifully put together selection of Italy's most adored cheeses, cold cut meats, homemade bread, olives and sundried tomatoes, these charcuterie boards perfectly matched the tone that Liz had been keen to create. And with that, catering managers Sophie and Jordan immediately set to work behind the scenes to make sure that everything on the day ran smoothly.
When the day of the wine tasting arrived, our team set aside much of the morning and afternoon to prepare the magnificent feast, which in addition to the antipasti platters, offered guests the chance to chow down on our trademark slow-roasted pig, or the vegan alternative: BBQ pulled jackfruit rolls with vegan coleslaw. Hog Roast Burscough's caterers also prepared refreshing salad options that were suitable for all diets, a batch of sweet potato fries and roast potatoes.
The hog roast rolls were particularly popular on this occasion, as crammed full of juicy meat, crackling, stuffing and applesauce, they were brimming with flavour that the guests couldn't seem to get enough of. They also thoroughly enjoyed the charcuterie board options, which complemented the flavours of the wine perfectly.
It was a fantastic day all round, and everyone was really pleased to have Hog Roast Burscough's team on hand to serve our fantastic selection of dishes, which made the experience all the more enjoyable.