Hog Roast Altrincham kicked off February, a.k.a. the month of love with a speed dating event! If you're not familiar with this quick-fire matchmaking concept, it was first developed in 1998 by an L.A. rabbi as a way of helping singletons to meet and connect with several different people in a short period of time, in the hope that by the end of the night, they would have managed to find their soulmate. It quickly caught on and spread like wildfire across the globe.
But even though going on multiple mini dates is no longer as common a courting method as it was in the early 00s, we think you will agree that speed dating is still a really fun and thrilling method of forging new connections, which is why self-confessed matchmakers, Dave and Sara, wanted to bring it back. And with Valentine's Day right around the corner, they couldn't have picked a better time to do so!
The pair had rented out a spacious function hall for the occasion, which they had decked out with red and pink props, bunting, balloons, glitter, fairy lights – the whole shebang. They also managed to sell all of their tickets in hardly any time at all. All they needed help with was the food, and for that, Hog Roast Altrincham was happy to be of service.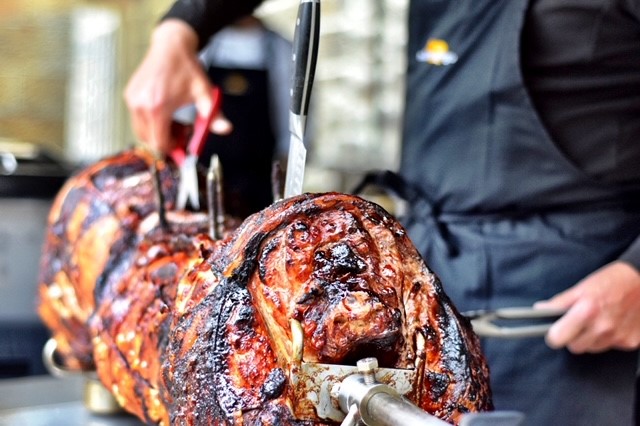 After speaking in-depth with our Hog Roast Altrincham catering managers, Sophie and Jordan, the pair settled on the Classic Hog Roast Menu, which checked all the boxes for Dave and Sara's fast-paced event. And to make it even more versatile and easy for the guests to move around with, the duo had asked for the food to be served on our lightweight disposable crockery.
The event saw 30 hopeful singles, who were looking to find their perfect date in time for Valentine's Day, descend on the venue at 7pm last Friday night, and having spent all afternoon grilling a whole pig for the hog roast rolls (as well as some veggie skewers for the vegetarian and vegans) Hog Roast Altrincham was there to greet them with a delicious spread.
The atmosphere throughout the evening was vibrant, and the guests seemed to have so much fun switching partners, chatting and digging into the buffet.