Hog Roast Prescot recently attended the christening of not one, or even two, but three babies! Yes, really! Our clients, Steven and Chantelle, welcomed triplets into their lives six months ago, and ever since then, they had their hearts set on a gorgeous christening celebration, which they had organised for us to cater at.
Our catering team were ecstatic to be included in the celebrations and eager to impress guests with a yummy feast, our catering managers, Sophie and Jordan, had set aside plenty of time to go over suggestions with the couple, which led to them choosing our Southern Slow Roast Menu.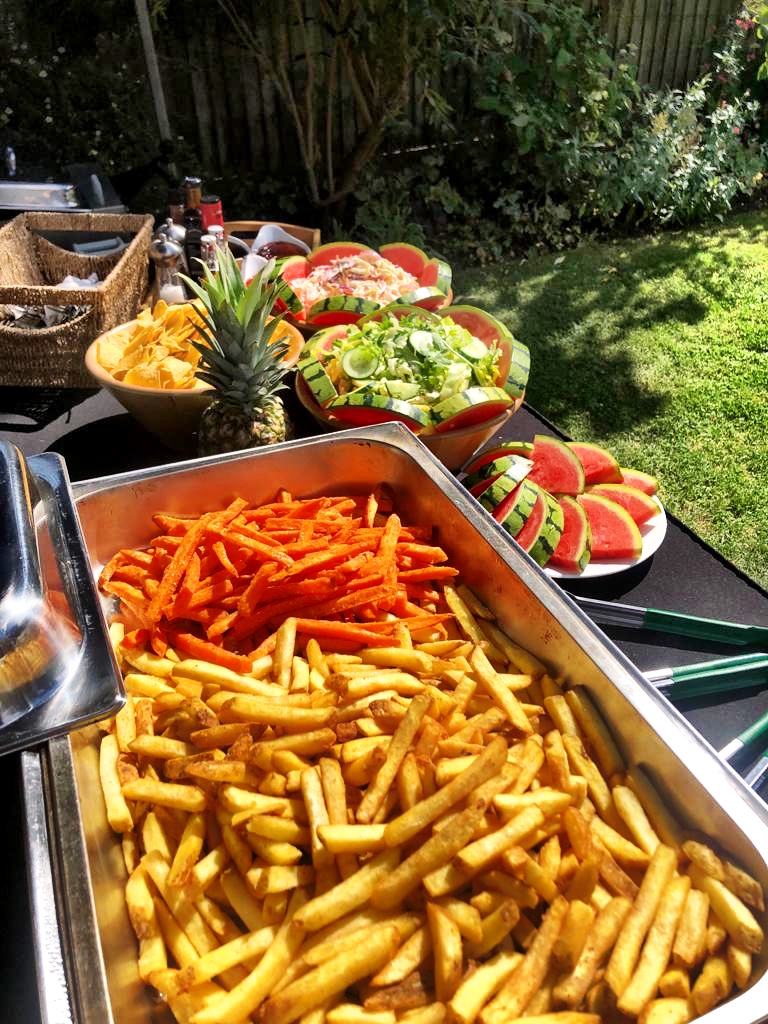 Drawing inspiration from some of the most famous dishes to come out of America's Deep South, this varied and extensive menu is one of Hog Roast Prescot's most atmospheric dining solutions, making it a popular choice with customers and guests of all ages. Steven and Chantelle particularly appreciated having the freedom to pick three meat options from a list of five choices. The winners, which, on this occasion, were our BBQ pork butt, Texan 24 hour beef brisket and Cajun-spiced whole roast chickens, were paired with Memphis style crunchy coleslaw, Greek salad, mac and cheese and mixed sweet potato and regular fries.
The clients had also asked for us to whip up a batch of our BBQ pulled jackfruit for their plant-based guests, and as an added extra, we catered to the sweet tooths with a choice of zesty lemon tart or light and refreshing individual cheesecakes.
Sophie and Jordan's hard work paid off, and after a tireless morning of grilling meats, tossing salads and setting up the serving tables, the pair were pleased to be able to present the guests with the end results of their labour. Chantelle and Steven were blown away with the spread, which not only smelled delicious but had been arranged beautifully too. Their guests were desperate to dig in, and not wanting to keep anyone waiting for any longer than necessary, our Hog Roast Prescot catering crew began to serve up the food as quickly and efficiently as possible – much to everyone's delight!