Universities across the country will be hosting their winter celebrations in the coming months, with events ranging from parties to formal balls. At Hog Roast Grimsargh, we can cater to any kind of event, with a menu that is suitable for any guest list. Here is just one menu that you may choose to enjoy…
Earlier this year, Hog Roast Grimsargh was contacted by the biology department of a local university with the hope that we could cater for their upcoming winter ball. The event takes place every December and is a great way for students to reflect on the previous term and catch up with friends before winter break begins. For the menu, the Hog Roast Grimsargh team has been hired to serve our formal dining package at the event, with three delicious courses for 250 students to enjoy. The event is guaranteed to be a lot of fun and the Hog Roast Grimsargh team is looking forward to being a part of something so memorable!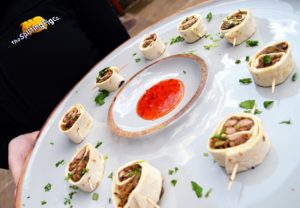 On the day of the event, the Hog Roast Grimsargh team will arrive at the venue in the morning to give us plenty of time to prepare the three courses. The menu will begin with canapes as the guests arrive at the venue, with five dishes served by our experienced waiting staff. The canapé's will include mini fish and chips, fresh salmon, an Indian selection, mini pizzas, and roasted duck breast. This is a great introduction to our catering and allows the guests to experience a variety of tastes and textures. For the main course, we will be serving a delicious slow-roasted hog, served with all of the traditional trimmings. The meal will include roasted baby potatoes, sage and onion stuffing, seasonal vegetables, and homemade gravy. The menu will end with a dessert course, with the guests able to enjoy sticky toffee pudding or chocolate torte. Each dish will be accompanied by English cream and fresh berries to ensure that it looks as good as it tastes!
At Hog Roast Grimsargh, no event is too big or too small for our team. To find out what we can do for you, simply let us know your party size, date, and location and we can do the rest.