Earlier in the month, Sophie and Jordan, Hog Roast Blackburn's very own dynamic catering duo, were invited to lend a hand at a private event that our client, Deborah, had put together for the Children In Need charity. Her goal had been to raise as much money as possible for the organisation, and so, she had chosen to invite more than 100 people to her home for an evening of fun, party games and great food, where we were, of course, in charge of handling the latter!
With people of all ages to please, and a great cause to support, Deborah was determined to get everything exactly right, so she was grateful for all the help and assistance that Sophie and Jordan happily provided throughout the entire booking process. Their expert advice and recommendations led her to select our Gourmet BBQ menu for the occasion, which boasts a stunning assortment of beautifully grilled meats, yummy sides and even a veggie/vegan option for non-meat-eaters, too. As an added extra for the kids, Hog Roast Blackburn even offered to include our irresistible homemade hot dogs in gluten-free buns, which Deborah was really excited about!
Everything about the menu was perfect for the client's laid-back affair, and when the day of the party arrived, Sophie and Jordan were eager to impress everyone with their phenomenal cooking skills. To do so, they arrived at the client's home a good few hours before the guests showed up to prepare the food and accompaniments. Their remaining time was spent helping Deborah blow up the yellow and white balloons and arranging the dining tables and chairs.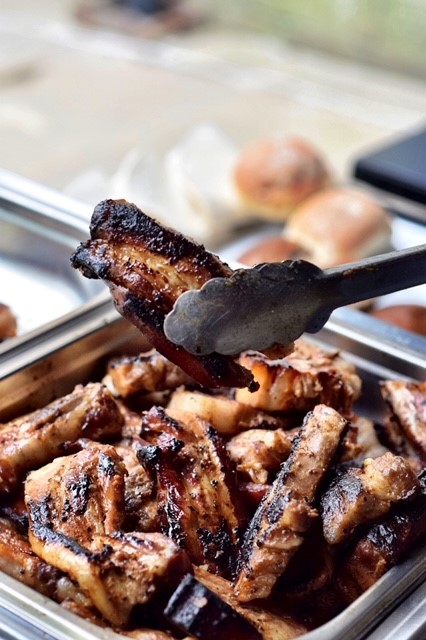 When the guests arrived later on that afternoon, wearing Pudsey Bear headbands, polka-dot accessories or even the full bear suit, their first stop after greeting their host was the buffet table, where the Hog Roast Blackburn team promptly served them succulent BBQ British beef burgers, juicy sausages, delicious chicken kebabs, meaty marinated spareribs or BBQ pulled jackfruit. Our homemade vegan-friendly coleslaw, Greek salad and mixed fries were paired with the mains, ensuring everyone got plenty to eat.
The party was a resounding success, and Deborah has since been in touch to thank Sophie and Jordan for all their help in raising money for an amazing cause!