Halloween is such a fun festival, filled with carving pumpkins, apple bobbing, costumes and trick or treating. Every year Hog Roast Colne gets a Halloween party booking and they know it'll be a fun, interesting event. What will people dress up as? What activities will there be? The catering managers go into the unknown but are always pleasantly surprised at what they find at these parties!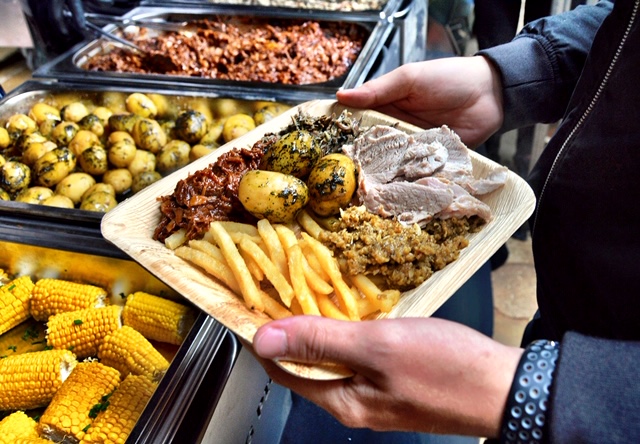 Halloween happens at the time of year where the temperature begins to drop and therefore, people want food that will warm their insides and their freezing hands. Hog Roast Colne's answer to that is a classic hog roast roll. A toasty, wholesome hog roast roll filled to the brim with soft, scrumptious pulled pork, luscious sage and onion stuffing and warmed apple sauce. The most satisfying treat on Halloween, guaranteed to warm you up from your head to your toes.
We can't forget that the 31st of October is all about sweets; Hog Roast Colne's catering managers also served a hearty, warm dessert to satisfy the tastebuds of those attending the party and therefore not getting their share of sweet treats from trick or treating. The client selected our divine and luxurious sticky toffee pudding; a moist yet dense sponge cake covered with a blanket of silky, sweet toffee sauce and accompanied with a sleek pouring cream. Our take on the popular British dessert is so incredibly delicious and a wonderful choice for this time of year as it is served hot.
Hog Roast Colne catering managers allowed an hour for guests to indulge in the delicious hog roast before laying out the delicate sticky toffee pud. Everyone thoroughly enjoyed the hog roast with some guests coming back up for thirds and fourths! Fourths is our record so far for the number of rolls one person has managed to eat at one event! They even had room to enjoy our sticky toffee pudding which we had many compliments on. People returning for more and going out of their way to come and talk to us about how much they loved the food always puts a smile on our faces.