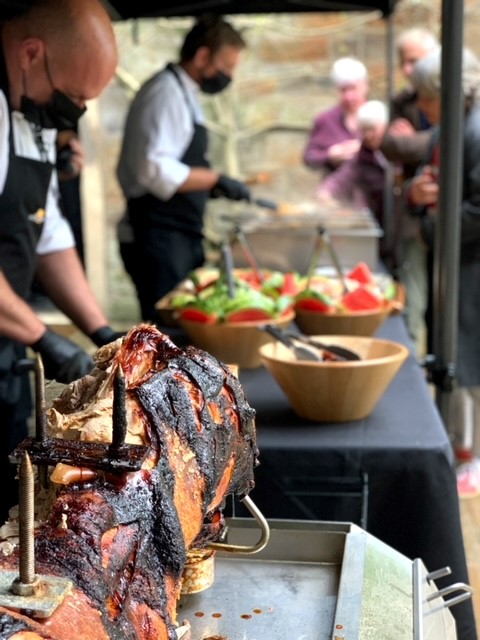 Located between Preston and Southport, Tarleton lies on the banks of the River Douglas and is said to be the site of an ancient Viking camp. Tarleton Lock joins the river with the Leeds-Liverpool canal and the village's Grade II listed bridge stretches across both. It is also surrounded by rich farmland, which produces an abundance of salad crops.
If you love home grown produce, Hog Roast Tarleton's food is the ideal catering option for your special occasion. All of our ingredients are carefully selected from only the best local produce, including all of our ethically-reared meat, organic fruit and vegetables, and free range dairy products.
All of our dishes are always made from scratch at your venue to maximise the freshness and flavour of our superior ingredients, no matter how complex your menu is or how many guests we are catering for.
Imaginative And Diverse Menu Choices with Hog Roast Tarleton
Hog Roast Tarleton's efficient cooking equipment and adaptable catering team allow us to cook in any location for any type of event, and our superior ingredients form the basis of a wide variety of menus. We can supply our signature slow-roasted pork sandwiches with all the trimmings for large public gatherings, such as outdoor markets and festivals, as well as high quality buffets for anniversaries, birthday parties and christenings, or formal 3 course meals with canapés for wedding receptions and corporate entertaining.
All of our menus offer a range of options that cater for all tastes and diets, including alternative slow-roasted meats, such as sirloin of beef, organic chicken and spring lamb, exciting vegetarian dishes, gluten-free products, and a combination of traditional and more contemporary flavour combinations across all of our canapés, starters, side dishes and desserts.
We also adapt our style of service to meet your requirements, and we can either give your guests a helping hand as they dig in to one of our delicious buffets or supply our own front of house staff to greet your guests with canapés and waiting staff to provide full table service to ensure your guests are well taken care of throughout your event. With our fresh, locally-sourced ingredients, our varied menus and our ability to provide fabulous food in any location, Hog Roast Tarleton  are the number one catering choice for any event in Tarleton.