As the seasons begin to change, replacing the warm weather and sunshine with bone-chilling winds and torrential downpours, the window for summer weddings closes. So, before the UK is entirely engulfed by autumn's shortening days and stormy skies, Hog Roast Lytham St Annes has been working extremely hard to help couples enjoy the summer wedding of their dreams before it's too late!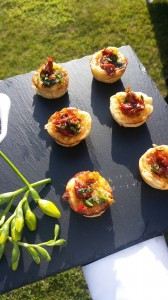 Last Sunday, it was Elliot and Hannah's turn to tie the knot, and the pair had decided to go all out on their big day by renting out a gorgeous marina by the coast for their nautical-themed ceremony and reception. And, to complement the spectacular seaside setting, they had also asked Hog Roast Lytham St Annes to serve one of our more detailed menus, which offers guests the chance to indulge in a delicious platter of handmade canapés and a drinks service, followed by a stunning three-course meal.
Jordan and Sophie, our marvellous catering managers, were at the helm of this event, and their professional demeanour and bright and bubbly personalities meant the bride and groom had no cause for concern ahead of their all-important occasion. Instead, the pair were able to relax completely and look forward to their wedding day, minus the usual stress that consumes newlyweds-to-be, which they were immensely appreciative of.
With more than 200 guests to appease, it was all hands on deck for our team, who knew they had to make every second in the lead-up to the serving time count. So, for Hog Roast Lytham St Annes , the morning of the wedding was spent setting up the serving tables, prepping the ingredients and laying the cloth-covered dining tables (which had been adorned with seashell and starfish centrepieces) with real crockery and cutlery.
When the newly-married bride and groom entered the reception hall with their guests later that afternoon, our waiting staff began to circulate with trays of champagne and bite size nibbles of beer-battered fish and chips, roasted duck, smoked Scottish salmon, mini quiche and pan-seared fillet of beef. And with the guests preoccupied with the entrees, Elliot and Hannah were able to pose for their wedding photos before returning to the party just in time for the drool-inducing main course to be served, which included lamb, pork and vegetarian options with fresh and tasty sides, followed by a vacherins of strawberries and passion fruit cream and tarte au citron.