For a very long time now, Hog Roast Chadderton has impressed with delicious food and first-class service, ensuring that our professional team members have exceeded expectations and not just met them at many events and parties. We are proud to be local but also proud to offer our catering services nationwide too and even further afield if needed. Whether you have a business function, private party or your wedding day in mind, or anything else in-between, we can do you proud and wow your guests and you may be surprised at our prices too.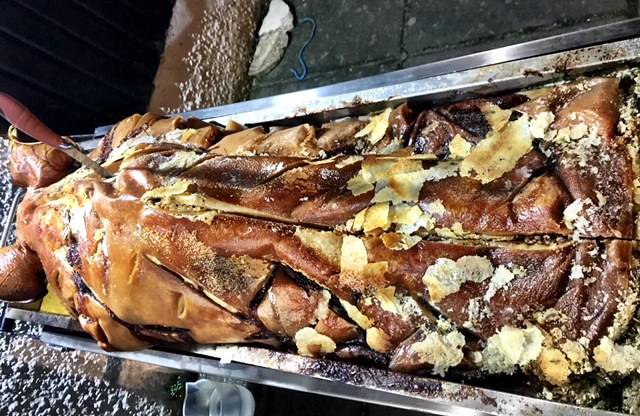 When Lou called us to book us for her 50th birthday party not so long ago, she wanted to impress her guests with a big pile of scrumptious Hog Roast Chadderton pigs in buns. Having enjoyed them herself in the past, she knew most people invited would love them too. Nevertheless, she was also inviting a strict vegetarian guest and she asked us if we could provide a suitable dish for them too. We've been providing alternatives for years, as we know full well that dietary restrictions shouldn't mean you can't enjoy our food, so whether you need a vegetarian, vegan or gluten-free option, or something altogether different, just let us know in advance and we can make sure those guests are well-fed as well.
For this party, Lou's veggie guest would get to devour our lovely skewers, which feature grilled halloumi and vegetable pieces, and are served with our Tzatziki dip and pitta bread. For the majority of guests, however, we would be cooking a medium sized hog on-site for several hours and then filling bread rolls and wraps with delicious meat, crackling, apple sauce and stuffing.
On Lou's 50th birthday, Hog Roast Chadderton headed to her partner's home, which would be the venue for the day. We set up in the back garden and before long, the hog was sizzling away. Sometime later and we were busy cooking the veggie kebabs and preparing all the fixings for the hog roast rolls, and once the guests arrived to the amazing aromas and fabulous sights of the food, it was time to carve.