Business catering can be formal or informal, depending on the style of event you are hosting. Whether you choose to host a sit-down meal or a casual buffet, Hog Roast Chorley have a menu that is perfect for you! Corporate catering needs to be delicious and professional, and Hog Roast Chorley tick all of the boxes! We recently catered for a sit-down meal for a local corporation and this is the menu that we provided…
Recently, Hog Roast Chorley was contacted about providing corporate catering for a formal event hosted by a local sales company. The company host annual dinners at the end of summer to discuss sales and records, as well as to prepare for the busy Christmas period. The dinner offers an opportunity to thank employees for their hard work and provides a luxurious experience for all. This year, our team were hired to cater the event and we planned to provide our formal dining experience, which is ideal for corporate catering.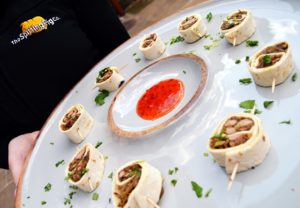 Our dining experience begins with canapés served as the guests arrived at the dinner, including smoked salmon, roasted duck breast, mini quiches, an Indian selection, and chicken liver parfait. Canapés provide a great introduction to our catering and prepare the guests for an evening of luxury. Following the canapés, we served homemade soup of the day, accompanied by fresh bread and butter.
For the main course, we prepared a Hog Roast Chorley classic, with guests choosing between spit-roasted English lamb or slow-roasted pork. The mains were accompanied by seasonal leaves, crunchy coleslaw, and Caesar salad, as well as roasted new potatoes.
To finish the meal, guests enjoyed profiteroles and chocolate torte, served tableside. Our desserts were served with English cream and fresh fruit, followed by a tea and coffee service. This was a great way to end the evening and ensured that the guests were satisfied with their meals.
Do you have a corporate event approaching that is in need of catering? If so, get in touch with Hog Roast Chorley today to book your date. Just let us know your party size and location and we can begin to plan your perfect catering package.