Lancashire is a most diverse county and one that is always full of pleasant surprises. Usually lumped together as part of 'up North' by southerners, Lancashire really does possess some beautiful countryside and hidden treasures in amongst the industry and tourism that this county is well known for. A trip to Lancashire is always worth making if you want to make some new discoveries or find some new haunts. One such place that may well be worth you investigating is the village of Worsthorne which is a small village of nearly three thousand inhabitants. Worsthorne may not be well known outside of Lancashire but something that it is recognised for is its stone circles, in fact there are two such prehistoric circles to be found in the village. Many of the properties in Worsthorne were millworker houses established at the peak of the industrial revolution but the village is now home to some reasonably high property prices.
Of course, the people of Worsthorne may enjoy living in this delightful and quiet corner of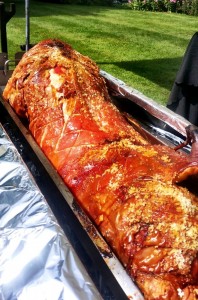 east Lancashire but it does not mean that that they are immune to the temptations of a good old hog roast when it comes to eating in style. They are not alone because hog roast is currently riding high on the waves of popularity as it finds itself very much in favour after years in the catering wilderness. although you don't need to go back as far as the stone circles, it was back in Medieval times that roasted pig cooking first made its appearance. It must have been quite a sight for the Medieval diners as they saw the glorious whole pig being spit roasted over a wonderfully roaring open fire. I wonder how many Medieval Lancashire folk would have tucked in to a fine hog feast in the area now known as Worsthorne?
The pig roast certainly fell out of favour for some unknown reason for many a year, to be replaced by a bizarre concoction of tasteless offerings that offered nothing in taste but plenty in blandness. It was such a shame that the once mighty feast was neglected so, but that was going to change and it would mean a welcome return for the delights of roasted hog for people across the United Kingdom and of course, Worsthorne.
Hog Roast Worsthorne – Leaders In Our Field
Have you ever been to a pig roast event or one where hog roast hire has been arranged? If not, you really must make the effort to get to one such event as it will give you a wonderful opportunity to experience the very best in event catering. There is something quite magical about roasted pig that you simply cannot ignore it as catering option any longer.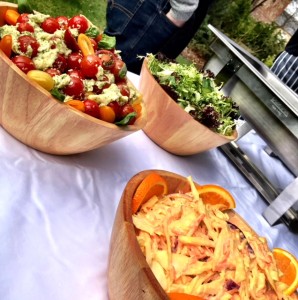 So what makes this such an incredible catering option? Well, there are so many positives when it comes to spitting pig that it is hard to single a few out but one of the most important factors has to be the incredible taste. It is no surprise that people wax lyrical about hog roast so much because it really is one of the greatest tasting meats I think there is, period. You can keep your steaks and your fish and your duck, I will take a hog roast over any of them, whether it's served up by a chef or a hog roast hire option. You just take one mouthful and you are despatched instantly to food heaven with some of the most mouthwatering flavours you will ever experience. It is a Worsthorne wonder!
Why does it taste so good? It's a combination of things, not least the careful selection which guarantees you great flavour. Did you know that hog roast caterers only use locally reared quality pigs for each event that they cater for? It's the sort of careful selection that you only get from a top restaurant yet here you are getting just that from a caterer! And then there is the cooking which is a real labour of love. How many caterers do you know that take six hours to carefully cook your event food. Six hours! It means the meat is super tender, deliciously flavoured and simply the most succulent meat ever. That long slow roasting really gives it time to mature and develop flavour.
If you are looking for wonderful flavours at your Worsthorne event then it simply has to be hog roast.