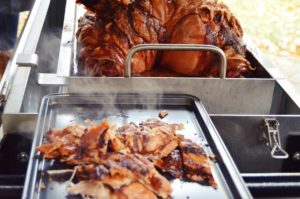 Rolling fields, fresh air, the only thing that will make this better is to add the appetising aroma of a hog roast. As you've stumbled across this page, you're clearly looking for a fun, tasty catering option for your event and Hog Roast Fence can certainly deliver a fabulous feast. Whether you're hosting a wedding, works do, corporate function, or any other type of party, our team will make sure everyone leaves well-fed and satisfied.
So, what's on the menu? Well, you could go with the classic option of slow-roasted succulent pork served with homemade applesauce and the crispy crackling from the pig. Or perhaps we can tempt you with turkey and juicy cranberries, spring lamb with fresh rosemary, or beef and Yorkshire puddings drizzled in a red wine gravy? We can even fire up a barbeque if you want to add burgers and sausages to the menu. Hog Roast Fence has plenty of options for you to choose from and will happily personalise the menu to suit your taste.
Hog Roast Fence – Leaders In Our Field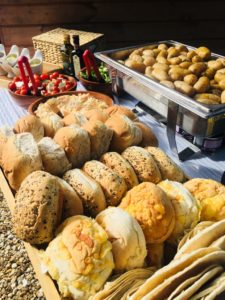 We have catered for many events. Our team can handle a guest list of any size and know exactly how many mouths a whole pig or a whole chicken can feed – there will be no food wastage. We take pride in creating a memorable meal for your guests.
Even the machines Hog Roast Fence use are the best in the business – we pair the right tools with talent. Spit-roasting meat to perfection is an art form, and one all of our chefs have mastered.
For formal events, we can supply a fabulous team of professional servers. Pending on the package you choose, they will greet your guests on arrival with a delicious selection of canapés, and when the time comes, they will bring the main to your guests at their table to avoid them having to queue for their food.
All of the ingredients we pick are of the highest quality. Plus everything is cooked fresh on the day right in front of your guests. Our salads and seasonal vegetable sides are also as sumptuous as the main. Every bite bursts with flavour.
Ready to start planning your perfect party? We would love to help. Give us a call or drop us an email today.