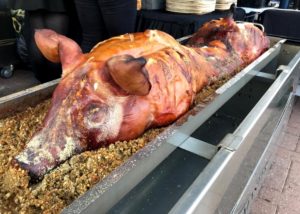 With its beautiful boutiques, stunning countryside views, pleasant walks and cycle routes, it's no wonder Barrowford attracts many a visitor (including the odd celeb!). With its charming character, the village is an ideal spot to bring people together for a celebration. If you're looking for a fantastic feast fitting for the occasion, then look no further than Hog Roast Barrowford.
Our friendly team can expertly cater for any style of event, from weddings to corporate functions, village fetes to private parties. Whether you're inviting 50 people or 500, every single guest will enjoy a mouthwatering meal.
So, what's on the menu? Well, we have a wide selection of meats both for the spit-roast, or alternatively the barbeque. Whether you're in the mood for tender pork with crispy crackling and homemade applesauce, or chargrilled chicken kebabs and marinated spare ribs, Hog Roast Barrowford have something to suit every tastebud. Our chefs will also provide a vegetarian alternative if needed and adapt the menu for anyone who has dietary requirements.
A Feast For The Eyes And The Palate with Hog Roast Barrowford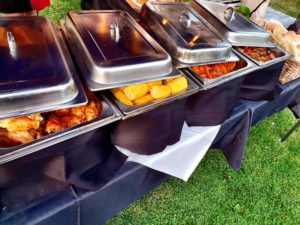 By slowly cooking the meat on our top of the range spit-roasting machines, it retains its moisture and therefore flavour. We don't stop there though. Every single bite you eat will taste divine, including the salads and sides. Hog Roast Barrowford only select high-quality, locally sourced ingredients to allow us to prepare and cook your meal on the day – we never reheat anything made the night before!
Your bountiful banquet is freshly cooked at your venue, starting a few hours before your party starts. The moment your guests arrive, the tempting sight, sound, and smell coming from the spit will greet them. Pending on the package you choose, they will tuck into exquisite canapés while they wait for the main course.
We know how stressful party planning can be, that's why we will take care of the finer details like crockery, optimum serving times, and making sure all your guests are given a disposable napkin. We will also discreetly clear up afterwards, so all you need to do is enjoy yourself.
Hungry to learn more? Reach out to us today and we will answer all your questions.